COMEDIAN HARMONISTS
Our archive contains the world´s first complete collection of the commercially issued original 78 records of the Comedian Harmonists and their successors "Meistersextett" and the emigrant group which recorded under the name "Comedian Harmonists" . It does not contain unissued test records.
As a result of a long time research of the recordings of these vocal groups, the book "Irgendwo auf der Welt" had been produced by us. It is the first complete 78rpm discography of the world famous vocal group "Comedian Harmonists" and the 2 ensembles founded by members of this a capella sextet after the original group has split off in 1935. Until the late 1930s both groups made many records, the "Meistersextett" in Berlin, the emigrant group in Vienna, Paris, Copenhagen, Stockholm and London.
The discography lists some previously unknown recordings as well as sales figures for some issues and figures for sales in certain countries. The book is written in German language but at least the discography should be understood by collectors anywhere. Some original documents such as letters and recording contracts are shown. The mystery about recordings made in Australia could be solved and demonstrated by letters of the recording company HMV. On 100 pages the 78s collector of the Comedian Harmonists and their successors finds most everything he needs to know about the recording history of these ensembles including many colour prints of labels of their records issued all over the world.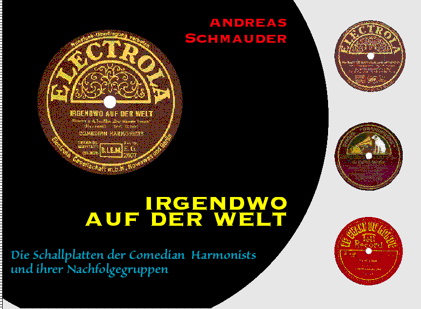 "Irgendwo auf der Welt"
Die Schallplatten der Comedian Harmonists und ihrer Nachfolgegruppen
(Andreas Schmauder, Freiburg 1999, 100 pages)
The book is available at Euro € 15,00 + postage at PHONOPASSION.